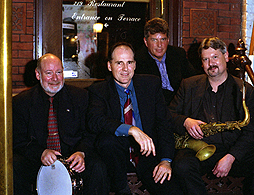 Photo credit: Rob Howe


Swing Speak
Over twenty years ago, after decades of backing a legion of top local and national performers, four of Washington's finest sidemen stepped into the spotlight to form Swing Speak. Their dream was to have a band in which they could express the full range of their musical experience. The musical chemistry and maturity of those early performances has evolved into something that is both distinctive and exhilarating.

Swing Speakís early repertoire centered around the swing and standards of the 1930ís and 1940ís, but their musical range soon expanded to include the full range of the American jazz repertoire, including a hearty dose of Latin and rhythm & blues. In this era of techno pop and hype, they make music the old fashion way: with a strong melodic content and deft musical skill. The success of this formula has gained them the admiration of their peers, plus a loyal following on both the jazz concert and swing dance circuit.

Swing Speak is led by bassist Steve Wolf who has been a fixture on the Washington music scene since the late 60s. During that time he has performed throughout the United States and Europe with such D.C. area notables as Danny Gatton, Tom Principato, The Nighthawks, Cathy Ponton-King, Catfish Hodge, Deanna Bogart, Bob Margolin, Linwood Taylor, Ron Holloway, Big Joe Maher, Jessie Yawn, and a diverse group of national artists ranging from Chuck Berry, The Coasters and Bo Diddly to Doctor John, Brian Auger and sax man Clarence Clemons. His well respected work in the blues arena has led him to back Chicago blues legends Sunnyland Slim, Pine Top Perkins, Charlie Musselwhite, Guitar Junior (Luther Johnson), and many others. Steve has also garnered an impressive list of recording credits as both a performer and producer.
Steve has also garnered an impressive list of recording credits as both a performer and producer. He played on and produced the legendary recording " Danny Gatton – Redneck Jazz Explosion" (Live At The Cellar Door). He is on nearly a dozen recordings and compilations with guitarist extraordinaire, Tom Principato. Wolf produced Principato's "Live In Europe" CD release. He also lent his playing and song writing skills to two Deanna Bogart Recordings. In recent years Steve has enjoyed recording tracks for a number of children's music projects with folk artists Cathy Fink, Marcy Marxer and Sue Trainor, and he's working on two new recordings with Tom Principato. In July 2011 he and Tom played the prestigious Montrex Jazz Festival in Switzerland. Steve continues to enjoy playing a variety of musical styles and is frequenty seen onstage with country artist Will Gravatt. To read more about Steve, view an extensive photo gallery and listen to audio highlights from his career, visit Steve on Myspace.